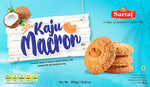 Our Kaju Macron are made using traditional macaron techniques, resulting in a perfectly crispy exterior and a chewy, melt-in-your-mouth center. Each Kaju Macron is filled with a sumptuous blend of cashew nut paste and buttercream, creating a unique and decadent taste that is sure to impress.

Our macarons are a popular choice for special occasions, gifts, or simply as a treat for yourself. Each Kaju Macron is carefully crafted by hand, ensuring that you receive only the highest quality product. And with our variety of flavors, including coconut, cashew & wheat, there's something for everyone to enjoy.These sweet treats are perfect for pairing with your favorite tea or coffee, and are sure to impress your guests at any event.

Our Kaju Macron also come in elegant box, making them a thoughtful and sophisticated present for your loved ones. Indulge in the rich and luxurious flavors of our Kaju Macron is perfect for any occasion. Made with the finest quality ingredients, our Kaju Macron are a delightful blend of cashew, and crispy coconut will satisfy any sweet tooth.

At our bakery, we take pride in offering only the most exquisite gourmet cookies and desserts. Our Kaju Macron are no exception, and are the perfect indulgence for anyone who appreciates the finer things in life. Try our Kaju Macron today and experience the luxurious taste of our French-inspired macarons.